The Ultimate Safari Itinerary in the Masai Mara
March 20, 2023
The Masai Mara National Reserve in Kenya is one of the world's most renowned safari destinations, boasting remarkable wildlife including the Big Five and hundreds more mammals, birds, and reptiles. Every year, visitors are treated to an awe-inspiring spectacle as millions of wildebeest migrate across its sprawling savannahs. These unique landscapes also provide opportunities for discovering ancient Maasai culture alive today – making it a truly unforgettable adventure.
Day 1: Arrival and Afternoon Game Drive
To get to the Masai Mara from Nairobi, you can either take a road trip or fly in by air. Once you've arrived, you'll have lots of options for accommodation – whether it's inside the park, nearby lodges and camps, or even private luxury tented homes.
Your first day will begin with an afternoon game drive. You will get to spot some of Africa's iconic wildlife, including lions, leopards, cheetahs, elephants, giraffes, and more. Make sure to come prepared with everything you need – binoculars to better view the animals, appropriate clothing and sunscreen protection, camera gear, etc.
Day 2: Full-day Game Drive and Optional Cultural Visit
Spending a full day game driving means more time to explore different areas of the park, such as the Mara River, where you can find crocodiles and hippos; Musiara Marsh, for sighting leopards and hyenas; the Oloololo Escarpment for amazing views of the Masai Mara National Reserve; and more. Have a picnic lunch amidst wildlife as well.
Alternatively, after your game drive is done for the day, consider visiting nearby Maasai villages where you can get insights into their culture while learning traditional dances or buying souvenirs. It could be an eye opening adventure!
Day 3: Hot Air Balloon Safari and Afternoon Game Drive
A hot air balloon safari is an absolute must  during your trip – if not just for its sheer exhilaration alone. Wake up early before dawn at your camp or lodge site, then take off with other passengers on board towards different areas of the park for about an hour each way. You'll also be treated to spectacular views of the sunrise over Africa plus amazing sights of wildlife below from up close – this is definitely as picturesque as it gets! Afterward, follow it up with an afternoon game drive to spot any other animals or sights that may have been missed earlier on.
Day 4: Departure
The fourth day would mark the end of the unforgettable Masai Mara safari adventure. You will have an early morning game drive followed by breakfast at your camp, then check out.
Depending on your travel plans, you can leave the Masai Mara by road or air. If you choose to drive back to Nairobi, you will have a scenic journey through the Rift Valley and stop for lunch en route. If you prefer to fly back to Nairobi or another destination in Kenya or East Africa, you will be transferred to the airstrip for your flight. Either way, you will have plenty of time to catch your onward connection or return home with plenty of stories and photos to share.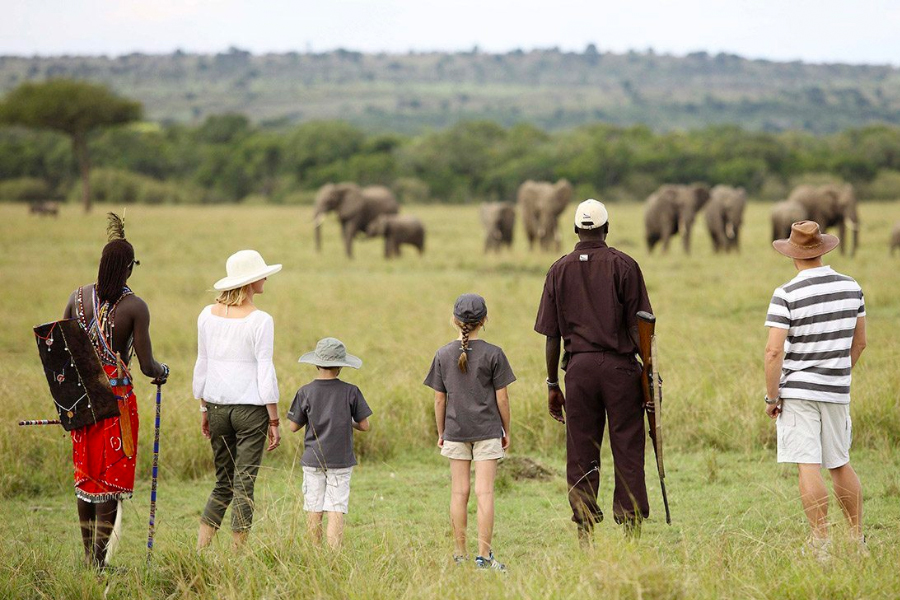 Other things to do:
If you are looking to extend your visit to the stunning Masai Mara, there is certainly no shortage of attractions and activities to experience. Whether you have more time or a bigger budget, you can explore plenty of the national parks and attractions nearby:
Lake Nakuru National Park:
Renowned for its magnificent flamingos, flocking the shoreline with an unforgettable pink hue. The park also plays host to one of Kenya's highest densities of both black and white rhinos as well as other threatened species such lions, leopards and giraffes. Nestled between woodlands, grasslands and rocky cliffs offering picturesque vistas across the terrain – visitors can explore a variety of habitats through hiking trails or on safari tours.
Hell's Gate National Park:
This park is unique for its dramatic landscapes. The park features towering cliffs, water-gouged gorges, stark rock towers, scrub clad volcanoes and belching plumes of geothermal steam. The park also allows visitors to walk, cycle and rock climb among the wildlife, such as zebras, giraffes, buffaloes and antelopes. The park was also an inspiration for some scenes in The Lion King movie.
Mount Kenya National Park:
As the second tallest mountain in Africa, it forms part of an enchanting World Heritage Site filled with glaciers, lakes, tarns and mineral springs. This remarkable oasis also has diverse montane vegetation featuring endemic plants as well as rare endangered animals like elephants, leopards, giant forest hogs and bongos – making it ideal for hikers wanting to observe unique birds or climbers seeking challenging peaks.
A non-profit wildlife sanctuary committed to the preservation of endangered species. Home to Kenya's only chimpanzee refuge and East Africa's largest black rhino sanctuary, it also provides habitat for an array of other fauna including its "big five" mammals. Recognition by IUCN Green List attests to the conservancy's excellence in conservation management practices, offering unforgettable experiences with activities such as game drives, bush walks, lion tracking and behind-the scenes tours.
There's no doubt that a trip to the Masai Mara National Reserve in Kenya is an experience like no other, boasting incredible wildlife and unique Maasai culture. From hot air balloon safaris to visiting a traditional village, adventure seekers will not be disappointed! Nature lovers can also take their exploration further with nearby national parks such as Lake Nakuru or Mount Kenya offering stunning vistas and rare species sightings.